End of Year Giving Campaigns
Presented Live: October 9, 2019
---

---
United for Libraries President Peter Pearson, Founder/Senior Consultant of Library Strategies Consulting Group, discusses end-of-year giving campaigns for Friends of the Library groups and library Foundations. Hear tips and advice, and ideas by other United for Libraries members during the live webinar.
---
Presenter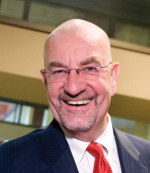 Peter Pearson is the 2019-2020 President of United for Libraries. He is lead consultant and co-founder of Library Strategies Consulting Group. He was president of the Friends of the Saint Paul (Minn.) Public Library for 25 years, and was a founder of Library Strategies. As president of the Friends of the Saint Paul Public Library, he led three capital campaigns and coordinated an annual grassroots advocacy campaign that added millions of dollars of public funding to the library's budget. He also served as a Trustee for the Twin Cities Regional Library System for 10 years.
---
About Monthly Member Forums
United for Libraries members are invited to a monthly member forum on the second Wednesday of each month at 2 pm eastern. All sessions will be recorded and posted in the members' only area of the United for Libraries website. Each month we'll feature a hot topic of interest to Trustees, Friends, and/or Foundations. A guest speaker will share highlights and information about the month's topic, followed by a Q&A with the speaker. At the half-hour mark, the format will switch to an open discussion among webinar participants. Sessions are open to all personal and group members of United for Libraries.