Friends, Foundations, Trustees, and the Future of Libraries
Presented Live: November 13, 2019
---

---
Miguel Figueroa of ALA's Center for the Future of Libraries will talk about some of the free resources available to help libraries consider the changes and trends that will affect libraries' futures – and how Friends, Foundations, and Trustees can support libraries as they change with their communities. And get a sneak peek at the upcoming Symposium on the Future of Libraries at the 2020 ALA Midwinter Meeting.
---
Presenter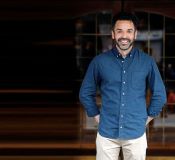 Miguel Figueroa works at the Center for the Future of Libraries (www.ala.org/libraryofthefuture), an initiative from the American Library Association. He has previously held positions at the American Theological Library Association; ALA's Office for Diversity and Office for Literacy and Outreach Services; NYU's Ehrman Medical Library; and Neal-Schuman Publishers. He is a graduate of the University of Arizona's Knowledge River Program, an initiative that examines library issues from Hispanic and Native American perspectives.
---
About Monthly Member Forums
United for Libraries members are invited to a monthly member forum on the second Wednesday of each month at 2 pm eastern. All sessions will be recorded and posted in the members' only area of the United for Libraries website. Each month we'll feature a hot topic of interest to Trustees, Friends, and/or Foundations. A guest speaker will share highlights and information about the month's topic, followed by a Q&A with the speaker. At the half-hour mark, the format will switch to an open discussion among webinar participants. Sessions are open to all personal and group members of United for Libraries.